SAD NEWS
It is with a very heavy heart, feet and hands that after 10 years, 4 albums, 200,000 miles, many tours, gigs and countries, people and songs that we have to sadly announce that myself, Mickey and Matt, collectively known as Little Comets, have decided to….
SELL
THE
VAN!!!!!!!!!!!!!!!
(For £600 to Matt Saxon's dad – apparently he was a very tough negotiator – get him to get you a home insurance renewal quote before it's too late, is the word on the street).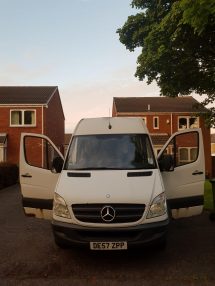 Hahaha. Sorry about that – no doubt there will now be some relief/disappointment that the sentence didn't carry on as suggested but hey ho…….. Really I should be ashamed as the van should not be taken lightly, underestimated or used as bait.
Our little van "Des Zapp" has been in action ever since one unseasonably warm February morning, still high on the quixotic readiness of Major Label Bullshit we skipped down the A19 to Bell's Van Emporium of Vehicular Wonderment to collect our prize – a badly converted little White Mercedes Sprinter, since described by an International Touring Artist as "the most uncomfortable vehicle I have ever been in".
This van had none of the trappings of International Touring Vehicles – it did not have (and these are all things that come as standard in International Touring Vehicles) wifi, cruise control, leather seats, carpets, a DVD player (this is starting to sound like a Feeder song), a screen of any sort, aircon, a bunk, comfort, a decent clutch, blacked oot windows, a bigger living area than a loading area* (*so… most vans-for-bands stack gear vertically in the back to make the use of most of the van for stretching out legs/having some privacy/smokin' weed maaaaaan/livin' the dream; but not our van… whilst our gear could stretch out horizontally in the back, we were as cramped as atoms, sitting on seats made out of what felt like teeth filled sack-cloth).
What our van did have though was character in abundance – abusive sun-shades, a removable table – a removable flipping table!, artwork, a Canadian flag, wallpaper, piss-proof flooring, many mechanical issues, a dreamcatcher, a CD player, a wall of apparent fame, curtains, a Mark Harle set top speed of 96 mph, a bullshit detector, napkins, Little Comets' Embroidered Blankets, a kettle, bin bags, 2 fire extinguishers, a glass hammer and a full selection of shattered dreams.
But as in life, the most important aspect of our steel accompaniment was the stories of those who sailed in him…
THE NIGHT SOMEONE WEE'D IN THE VAN
"One night I was sleeping in Des after we'd been hoyed oot of a Travelodge for makkin too much noise like hoo!" said a voice from behind Matt Hall's facial hair. "It was ser cold that one of General Fiasco had put on all of their merch T-shirts just to keeps warm. Anyways, I woke up at 2 a clock in tha morning to the sound of what could ernly be described as someone pissing on the floor of the van." Coughed the hirsute bassist: "A turns roond and w'tour manager Steve Lewthwaite (now a respected International Tour Manager) was literally weeing on the floor. A sez: Steve man, ya pissin on the floor! Steve said: nar, I've erpened the door man like hoo. A sez: nar yer haven't like hoo. The next day we both agreed he hadn't and he bought a proper big bottle of toilet duck. On cold nights I can still hear the sound."
THE DAY THOM YORKE SAW ME WALLPAPER
"Whey it must have been Latitude Festival in 2009 like" muttered Rob looking up from a pint of opprobrium. "The funny thing is we played it when we were a proper not-really-saying-much-aboot-anything indie guitar band like – y'knar like how the Kaiser Chefs would sound if they swallowed a dictionary and some pride, y'knar before we developed a sercial conscernce. The irony is that now we are a bit more leftfield they won't book us cos we're "not a Latitude Type Band". Whateva that means… not that am bitter or owt like hoo".
"Anyways" stuttered the singer "w'driving oot of the festival with the door open as y'do when you are young and daft and wiv just put some wallpaper on the new van, like the nice textured stuff from Binns in Shields when I see's this blerk looking in the cab and I shouts "here man, luk at w'waalpaper". Then Mickey shouted "ar nar it's Tom York off Radioheed", so we shut the van and bolted, cos ye divvent want to look like a muffin in front of Therm Yerke cos we mightn't have got that Radioheed tour support ya kna. If twitter had been a thing a would have gone on it and apologised to him like but it wasn't so I just put Amnesiac on and felt even worse about mesell."
LOOK WHO'S TORQUE-ING NOW
"My favourite memory of the automobile denominated thusly occurred when I read aloud the technical specification manual upon delivery." proffers Mickey. "I was surprised at the level of torque such a vehicle could produce given the rather large discrepancy in the load-mass base particle ratio. Stunning engineering. Also, I genuinely liked the fact that the white hue of the paint would slightly improve my personal albedo with regards to the amount of solar radiation I reflect on a daily basis, something I feel VERY strongly about" mused the sonically obsessed string picker.
THE DOG AND THE BAG OF DRUGS
"Back in the day, when I was still TM'ing for LC, I was in charge of sorting the PDs for the MD, the lampy, and the backline tech; the wedges and ears, the trips, the plus ones, the bus call for the AM, patch the rack and the DIs. But one story always stuck in my mind" said International Tour Manager Leve Stewthwaite, formerly the band's fashion stylist, security guard and fixer. "We were getting a ferry from Stranraer to Belfast for a gig when a port police man notices our vehicle – he immediately clocked us as a BAND and was looking to make a BUST! Now most of the boys in the band are clean living guys – except for Matt Hall who at the time was a *se-ri-ous* stoner. Any chance he got he would hammer home a little bit of ~the weed~ you know. But I knew that even Matt wasn't stupid enough to try to smuggle contraband in his baggage… how wrong was I?!" Leve asked to take a break at this point for reputational purposes but we agreed to change his name for the sake of anonymity. "Anyhow" continued Leve "the officer waddles over to the van with his drugs spaniel and asks us to open the door: "which band are you then?" he says as his dog is clearly aroused by a smell from our bass player's bag. "Er Little Comets" I say. By this point the dog is basically saying: "There are drugs in this rucksack", nuzzling Matt's bag. "Ah class", the officer sprouted "if I go home and get my albums would you sign them…?". The band nodded nervously, looking at the dog: "Ah don't worry about him" said the PC, "he does that all the time!".. To be honest I don't know if the band were more surprised at his reaction or the fact that a random member of the public had actually heard of them AND OWNED some of their music – more than one copy at that, I have to say I was quite shocked by that myself."
So that's it really – we'll put up some pictures, maybe a video and occasionally share a story of Old Des and his 200,000 miles (which could have hit 300k if the plan to SHIP Des to the USA for touring while we recorded an album on the boat had come off….). Mickey is going to play The Last Post at the start of the next gig, so we would ask if you could remain respectful throughout most of that. And if you ever see DE57ZPP driving/broken down in a layby near you, make sure you give Matt Saxon's Dad a friendly toot, or just shout "Up the Spartans!" out of the window.
Bye bye Des and thanks for the memories.
Des would like to thank:
Peter Coles – his caretaker and friend, Rob, Mickey, Matt Hall, Mark Harle, Steve Lewthwaite, David Greene, Nathan Green, Matt Saxon, Darren Purves, Anis Finn, Matt Walch, Rich Robinson, Louisa Gladwin, Paul Winton, Matt Lewis, Christine Coles, Hockey, The Noisettes, The Twang, Darwin Deez, The 1975 (The Big Sleep, The Slowdown, Drive Like I Do), General Fiasco, Catfish and the Bottlemen, just Delphic, Deastro, The Crookes, Model Aeroplanes, Eliza and the Bear, Hippocampus, The Pigeon Detectives, Gomez, High Tyde, Mattie Vant and the rest..
[fbcomments]